MineLab F3C is ultra-compact and offers superior mine, UXO, and IED component detection in the most challenging soil conditions
F3 Performance
The MineLab F3 Compact (F3C) Pulse Induction (PI) metal detector is designed to locate high metal and minimum metal-mines, weapons caches, UXO, and IED components in mineralized and non-mineralized soil. The F3C incorporates all of the capabilities of the operationally proven F3 detector into a compact, foldable mechanical platform that greatly reduces the packed volume and weight of the equipment. The F3C also uses the industry-leading pulse induction Bi-Polar Multi-Period Sensing and Ground Balance technologies. These technologies enable operators to not only achieve the highest metal detection sensitivity but also to eliminate false alarms caused by mineralized soil – without reducing performance. Constructed from impact resistant materials and designed to withstand any operating environment, the F3C is the ideal detector for military personnel conducting search tasks for conventional and non-conventional threats in the most challenging soil conditions.
Key Features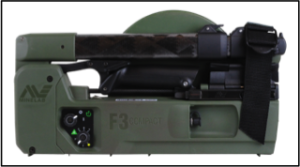 Ruggedized to Military Standards
Highly Effective High Metal and Low Metal Mine, Weapons Caches, UXO, and IED Component Detection
Extremely High Detection Sensitivity
Renowned Ground Balance Eliminates Spurious Alarms Caused by Mineralized Soils
Detects Ferrous Metals from Non-Ferrous Metals
Fast and Accurate Target Pinpointing
Simple-To-Use Interface and Operation
Ultra-Compact Form Factor
Ruggedized to Military Standards
Simplified Repair and Maintenance Process
Minimal Training Required
Delivery Lead Times
MineLab understands military organizations routinely need to respond quickly to fulfill urgent requirements for U.S. Forces, Coalition partners, and partner nation capacity building. MineLab's goal is to meet the customer's schedule rather than ask customers to accommodate a prolonged production schedule. MineLab generally maintains an F3C inventory to meet smaller, urgent requests; and will rapidly increase production rates, in weeks, not months, to fulfill larger quantity requests.
Ruggedization & Maintenance
The F3C is designed and manufactured to meet the most stringent military ruggedization standards. The F3C is IP68 rated, meets MIL-STD 810 G requirements, and is designed to be used in extreme temperature ranges often encountered in certain parts of the world. The F3C also consists of Line Replaceable Units (LRU) to allow more repairs to be conducted in the field, and significantly reduce costly and time-consuming depot level repairs.
Competitive Pricing
MineLab offers metals detectors at extremely competitive prices without sacrificing performance and quality, or excessively long delivery lead times.
F3C Specifications
Operating Length: 1490mm / 59ins – 950mm / 37ins
Packed Length: 380mm / 15ins
Coil (Standard): 200mm Monoloop Coil
Operating Weight: 2.6kg / 5.7lbs
Technology: Pulse Induction Bi-Polar Multi Period Sensing
Alerts: Audio and LED
Audio Output: Internal Speaker or Headset
Battery: 4 x C Cell (Alkaline or Rechargeable)
Warranty: 15 Months
F3C Kit Contents
F3C Detector
Soft Carry Bag
Test Piece
4 x C Cell Batteries (Alkaline or Rechargeable)
Headset
Operations Manual and Field Guide